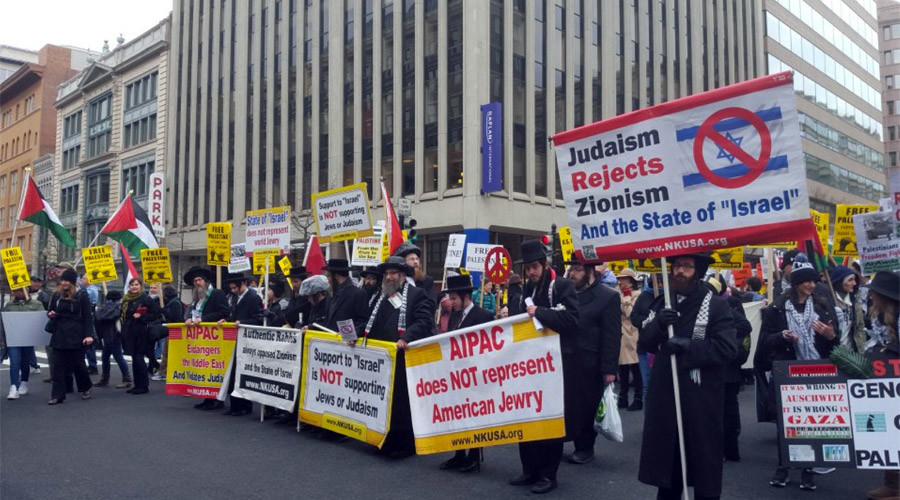 SIONISMO EN ESTADOS UNIDOS
Los medios de comunicación estadounidenses han hecho un buen trabajo al confundir al ciudadano promedio con muchas cosas. Uno de ellos es confundir el antisemitismo con el sentimiento antisionista.
Para la mayoría de los estadounidenses, cuestionar abiertamente las políticas de Israel es abrirse a ser etiquetado de racista antisemita.
Las políticas pro-israelíes de los Estados Unidos parecen equivocadas para muchos estadounidenses mejor informados que son conscientes del tratamiento doméstico de apartheid de Israel de los palestinos y los judíos africanos que han emigrado allí.
Una vez, en un viaje por la Ribera Occidental, un guía cristiano  palestino me describió el tratamiento  horrible hacia los palestinos por Israel y sus colonos .
Sin embargo, es probable que alguien señalando estas cosas fuera etiquetado como un antisemita.
Como decía Voltaire: "Para saber quién gobierna sobre usted, simplemente averigüe a quién no se le permite criticar".
Los líderes israelíes a menudo confirman su desdén por sus vecinos árabes.
Recientemente, la periodista del New York Times Isabel Kershner, que tiene un hijo en las Fuerzas de Defensa de Israel, citó a oficiales militares israelíes declarando que en la "casi inevitable próxima batalla con Hezbollah. . . Moshe Yaalon, el ministro de Defensa de Israel, indicó que se apuntaría a vecindarios civiles en futuros conflictos en el Líbano o en Gaza: "Vamos a herir a los civiles libaneses Para incluir a los niños de la familia. . . Lo hicimos en la Franja de Gaza, vamos a hacerlo en cualquier ronda de hostilidades en el futuro ".
Imagine la indignación pública mundial si el Secretario de Defensa de Donald Trump, James Mattis, hiciese una declaración similar con respecto a las acciones militares estadounidenses.
Sin embargo, los medios de comunicación norteamericanos y los líderes políticos estadounidenses están en silencio.

El Comité Americano de Asuntos Públicos de Israel (AIPAC, por sus siglas en inglés), uno de los grupos de cabildeo más poderosos del mundo, tiene una enorme influencia sobre el sistema político estadounidense. El grupo ha destituido con éxito miembros del Congreso que se atrevieron a criticar públicamente a Israel.
Rara vez un candidato para la oficina nacional no aparece ante el grupo y declara su apoyo descarado para el estado judío. Ciertamente, prácticamente nadie puede ganar la presidencia estadounidense sin hacerlo. El lobby israelí es tan poderoso, y el sentimiento pro-israelí del público es tan fuerte, que los líderes de Israel toman a Estados Unidos por sentado.
En un video grabado en secreto en 2001, el primer ministro de Israel, Benjamin Netayahu, puede ser escuchado diciendo: "Sé lo que es América, América es algo que puedes mover con mucha facilidad, moverlo en la dirección correcta. "
Netanyahu continúa aludiendo a cómo él, en un período anterior como Primer Ministro durante el gobierno de Clinton manipuló el proceso de paz: "Me preguntaron antes de las elecciones si honraría [los acuerdos de Oslo]", dijo. "Dije que lo haría, pero ... voy a interpretar los acuerdos de tal manera que me permita poner fin a este galope hacia las fronteras de los 67. ¿Cómo lo hicimos? Nadie dijo lo que define Las zonas militares  son zonas de seguridad, en lo que a mí respecta, todo el valle del Jordán es una zona militar definida."
Sólo los medios de comunicación alternativos parecen dispuestos a desafiar las políticas y acciones de Israel.
Gideon Levy, columnista del periódico Haaretz, declaró: "Este video debería haber sido prohibido para ser transmitido a menores de edad, este video debería haber sido mostrado en todos los hogares de Israel, luego enviado a Washington y Ramallah. Para corromperlos y distribuirlos por todo el país y el mundo para que todos sepan quién dirige el gobierno de Israel ".

Los Estados Unidos predominantemente cristianos siempre han fomentado una relación de parentesco-espíritu con el estado judío. Los cristianos evangélicos americanos, uno de los bloques electorales más políticamente activos e históricamente homogéneos, son probablemente los más leales aliados estadounidenses de Israel.
Mientras que detrás de la escena, Estados Unidos y sus aliados, están dispuestos a financiar a los islamistas radicales para mantener a los "malos" descendientes de Abraham como el enemigo. Está claro ahora que el presidente Obama y la secretaria de Estado Hillary Clinton estaban armando y suministrando a los radicales dentro de Siria y tal vez otras naciones del norte de África.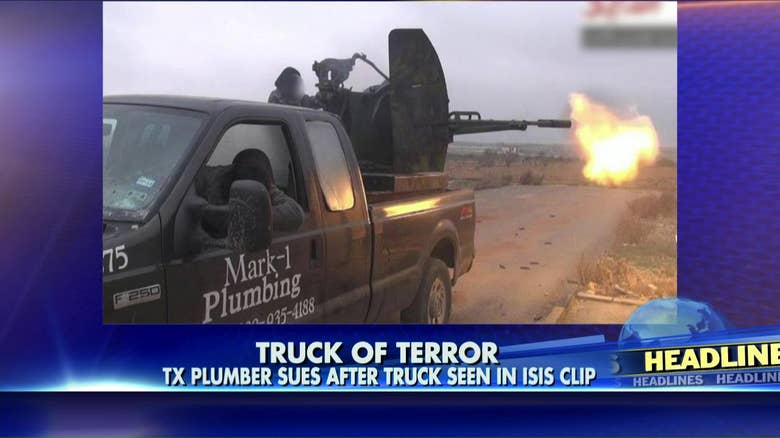 Las naciones occidentales han financiado durante mucho tiempo ambos lados de los conflictos para sacar provecho de la guerra y crear un caos al que más tarde ofrecerían una solución.
Por supuesto, la solución más a menudo se tradujo en un mayor control externo por el oeste y una mayor esclavitud económica de la gente. Esta política no es nueva.
Durante un almuerzo dirigido al Consejo de Asuntos Mundiales de Dallas hace unos años, escuché a James Oberwetter, que sirvió como Embajador de los Estados Unidos en Arabia Saudita bajo George W. Bush, expresar abiertamente su conocimiento y preocupación por el financiamiento de Arabia Saudita al madrassas en Pakistán Y los otros lugares donde se enseña una doctrina islámica radical wahhabi.
Creo que estos son planes a largo plazo e institucionalizados del "estado profundo".
Muchos de nosotros esperábamos que la retórica no intervencionista y preelectoral del Presidente Trump pasara a la política estadounidense hacia Israel, que Estados Unidos tendría un enfoque más equilibrado.
Sin embargo, el reciente apoyo incondicional del presidente de Israel y sus declaraciones provocativas con respecto a la némesis de Arabia Saudita el no-árabe más moderado en gran medida Shia, Irán persa, sugiere que los EE.UU. continuará por el camino que siguió desde 1948.
A veces me pregunto qué podría parecer el Oriente Medio Como si la Agencia Central de Inteligencia de Estados Unidos y el MI6 del Reino Unido no hubieran derrocado al gobierno secular democráticamente elegido de Mohammad Mosaddeq en 1953.
Un golpe que parece haber sido orquestado para proteger en gran parte los intereses de British Petroleum en el petróleo de Oriente Medio.

El "America Primero" de Trump ha inspirado a muchos estadounidenses. Esperemos que él mueva la política y las acciones de Estados Unidos para reflejar un mayor respeto por los intereses nacionales de todos los pueblos del mundo.
Es hora de poner la hegemonía colonialista angloamericana en la cama.
Defendamos la libertad y la democracia real para todos.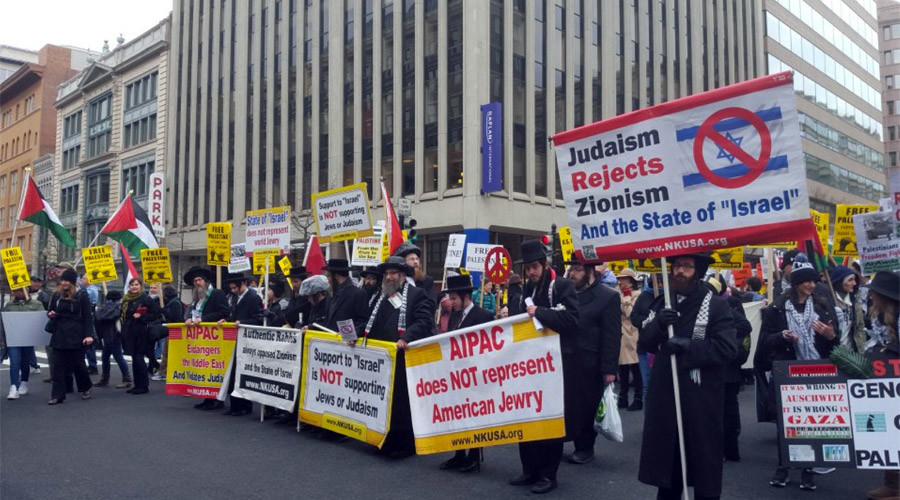 Zionism in USA
The American media has done a good job of confusing the average American about many things.
One of those is to conflate Anti-Semitism with anti-Zionist sentiment. 
For most Americans, to openly question the policies of Israel is to open oneself up to being labeled an anti-Semitic racist. 
The United States' unabashedly pro-Israel policies seem misguided to many better-informed Americans who are aware of Israel's domestic apartheid-like treatment of Palestinians and African Jews who've migrated there.
Once, on a trip along the West Bank, a Palestinian Christian tour guide described quite horrific treatment of Palestinians by Israel and her settlers to me.
However, it's likely anyone pointing these things out will be labeled an anti-Semite.
As Voltaire stated, "To learn who rules over you, simply find out who you are not allowed to criticize."
 Israeli leaders often confirm their disdain for their Arab neighbors.
Recently, New York Times reporter Isabel Kershner, who has a son in the Israeli Defense Forces, quoted Israeli military officials stating that in the "almost inevitable next battle with Hezbollah . . . many Lebanese civilians will probably be killed, and that it should not be considered Israel's fault."

Previously, Moshe Yaalon, Israel's defense minister indicated he would be targeting civilian neighborhoods in future conflicts in Lebanon or Gaza: "We are going to hurt Lebanese civilians to include kids of the family . . . We did it in [the] Gaza Strip, we are going to do it in any round of hostilities in the future."
Imagine the global public outrage if Donald Trump's Secretary of Defense James Mattis made a similar statement regarding American military actions. Yet the US media and American political leaders are silent.

The American Israel Public Affairs Committee (AIPAC), one of the most powerful lobbying groups in the world, has enormous influence over the US political system. The group has successfully unseated members of Congress who dared to publicly criticize Israel.
Rarely does a candidate for national office fail to appear before the group and declare his or her unabashed support for the Jewish state.
Certainly, practically no one can win the American presidency without doing so.
The American Israeli lobby is so powerful, and the public's pro-Israel sentiment is so strong, that Israel's leaders take the US for granted.
In a video secretly recorded in 2001, Israel's Prime Minister Benjamin Netayahu can be heard stating "I know what America is, America is a thing you can
move very easily, move it in the right direction. They won't get in their way."
Netanyahu goes on to brag how he, in a previous stint as Prime Minister during the Clinton administration manipulated the peace process: "They asked me before the election if I'd honor [the Oslo accords]," he said. "I said I would, but ... I'm going to interpret the accords in such a way that would allow me to put an end to this galloping forward to the '67 borders.
How did we do it? Nobody said what defined military zones were.
Defined military zones are security zones; as far as I'm concerned, the entire Jordan Valley is a defined military zone. Go argue."

Only alternative media outlets seem willing to challenge Israel's policies and actions.
Gideon Levy, a columnist for Haaretz newspaper, stated: "This video should have been banned for broadcast to minors. This video should have been shown in every home in Israel, then sent to Washington and Ramallah. Banned for viewing by children so as not to corrupt them, and distributed around the country and the world so that everyone will know who leads the government of Israel."

The predominately Christian United States has always fostered a kindred-spirit relationship with the Jewish state.
American evangelical Christians, one of the most politically-active and historically homogenous voting block are probably the most loyal American allies of Israel.
While behind the scene, the United States and its allies, are willing to fund radical Islamists to maintain the "bad boy" descendants of Abraham as the enemy.
It's clear now that President Obama and Secretary of State Hillary Clinton were arming and supplying radicals inside Syria and perhaps other north African nations.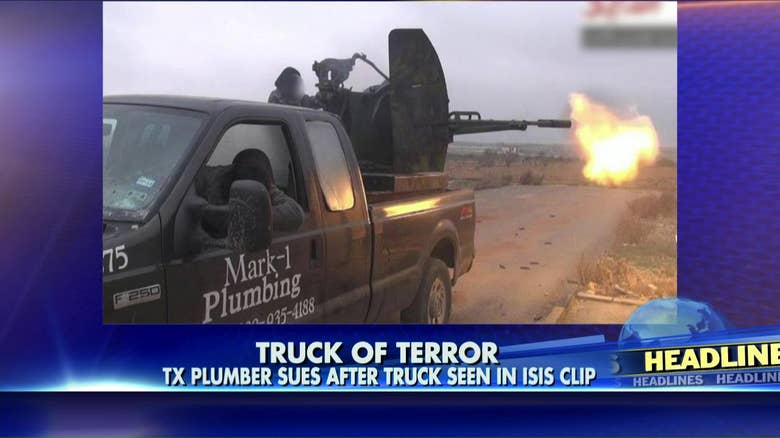 Western nations have long funded both sides of conflicts to profit from the war and create chaos that they would later offer a solution to.
Of course, the solution most often resulted in more external control by the west and greater economic enslavement of the people.
This policy is not a new one.
During a luncheon address to the World Affairs Council of Dallas a few years ago, I heard James Oberwetter, who served as US Ambassador to Saudi Arabia under George W. Bush, openly express his knowledge of and concern over Saudi Arabia's funding of madrassas in Pakistan and perhaps other places where a radical Wahhabi Islamic doctrine was taught. I believe these are long-term and institutionalized plans of the "deep state".

Many of us had hoped that President Trump's non-interventionist, pre-election rhetoric would spill over into US policy towards Israel, that the US would have a more balanced approach.
However, the President's recent undaunted support of Israel and his provocative statements regarding Saudi Arabia's nemesis the non-Arab more moderate largely Shia, Persian Iran suggests the US will continue along the path its followed since 1948.
I occasionally wonder what the middle east might look like today, if the US Central Intelligence Agency and the United Kingdom's MI6 had not overthrown the democratically-elected secular government of Iran's Mohammad Mosaddeq in 1953. A coup that appears to have been orchestrated to largely protect British Petroleum's interests in Middle East oil.

Trump's "America first" nationalism has inspired many Americans.
Let's hope he will move US policy and actions to reflect a greater respect for the national interests of all the people of the world.
It's time to put the Anglo-American colonialist hegemony to bed. Let's stand for freedom and real democracy for all.